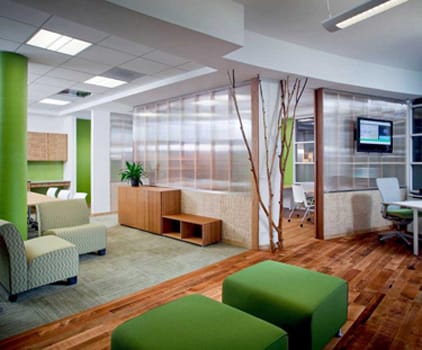 A Comfortable Clinic:
Interior Decorating to Enhance Patient Care
I was nervous as soon as I walked into the exam room, and not because I'm scared of the dentist.
I didn't know where to put my purse.
Would it be in the way on the counter? Would it be weird if I left it on my lap? What if….
I must admit that I'm relieved to find I'm not alone in this anxiety. The American Psychological Association (APA) recommends placing a small table next to patient chairs in exam rooms to "enhance clients' sense of 'territory' by giving them a place to put personal items." (1)
We know that a clinic environment has an impact on a patient's sense of calm. And while we can't all work in a naturally-lit clinic with tall arched windows opening onto a manicured rose garden, we can do little things with furniture and décor that make big differences in patient state of mind.
Here are some recommendations from the APA (1):
Light: Natural light, especially, has an uplifting effect on people. Keep blinds open if possible, unless there is a busy scene outside that can be distracting or raises privacy concerns. You can also use warmer artificial light, or even special bulbs that imitate natural light.
Color scheme: Residents in nursing homes prefer warm colors – around the green-yellow section of the color spectrum – for rooms where activity is expected.  Cooler, less stimulating colors are preferred for rooms such as bedrooms. (2)
 People prefer matching natural materials, especially light woods with natural grain (until they cover more than 45% of the surfaces in a room). 
Furniture style: The furniture should be comfortable and themed. It should be in good shape, but patients may also feel uncomfortable if it feels too expensive. Consider your patient population – midrange furniture is likely a good bet.
According to the APA, the ideal chair for a patient interview is one that the patient can move to adjust the space between you, with shoulder support for a sense of security and easy access to the door to keep the patient from feeling trapped. 
Personal paraphernalia: Decorating your workspace with some pictures of your family and other personal items can make the place seem more friendly – but too much strays the line into cluttered. Make sure the space still feels open and professional.
A note on adolescents: A 2011 study in Spain found that, in contrast to adult participants, adolescents aged 14-17 expressed more concern for the symbolic elements of decoration (color choice, decorations, etc.) than the physical aspects (cleanliness, lighting, spaciousness, outdoor views). Some preferred a child-specific atmosphere, while others preferred an atmosphere more similar to adult environments. (3).
It may take some creative problem-solving, but we can all take small steps to keep a comfortable space where patients can focus on their health goals.
DeAngelis, T. (2017, March). Healing by design. 

Monitor on Psychology

, 

48

(3). 0http://www.apa.org/monitor/2017/03/healing-design

Torres A, Serra J, Llopis J, Delcampo A. Color preference cool versus warm in nursing homes depends on the expected activity for interior spaces.

Frontiers of Architectural Research.

2020;9(4):739-750. doi:10.1016/j.foar.2020.06.002

Ullán AM, Belver MH, Fernández E, Serrano I, Delgado J, Herrero C. Hospital Designs for Patients of Different Ages.

Environment and Behavior

. 2011;44(5):668-694. doi:10.1177/0013916511403802.